Joint and muscle pains can slow you down. 'Herbal Planet' has a solution for you - ORTHO 360.

A natural oil, selected from nature's best pain relieving ingredients to provide instant and long lasting pain relief from all joint pains & causes no side effects like rashes and irritation on application.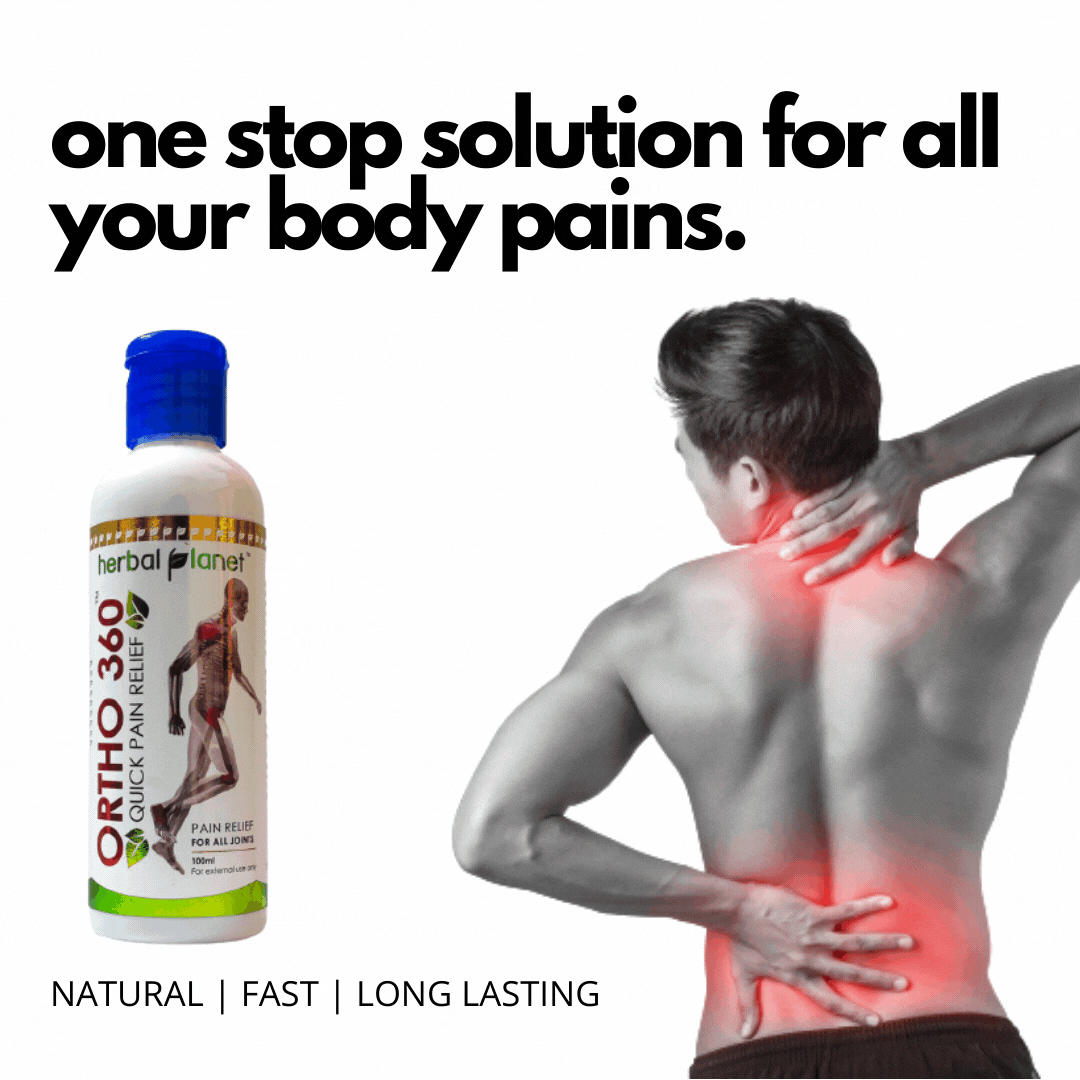 More Information on ORTHO 360.
---
Experience greater mobility and long-lasting pain relief with Herbal Planet Ortho 360 Pain Relief Oil.
HERBAL PLANET ORTHO 360 PAIN RELIEF OIL
Ortho 360 helps relieve pain in conditions like Arthritis, Sciatica, Frozen Shoulder, and Chronic Knee or Back Conditions.
Has an easy spread formula that absorbs quickly and doesn't leave behind any sticky feeling residue.
Doesn't cause any irritation or allergic reaction. Safe to be used on all skin types.
Comes in a conveniently sized 100 ml sturdy flip-top bottle.
Ideal for all ages, this herbal pain oil can be used by senior citizens, middle-aged individuals, housewives, young professionals, sportspersons, and more.
Must have in your first aid kit at home and office.
---
ALL-NATURAL INGREDIENTS
---
CONTAINS THE FOLLOWING HERBAL ACTIVES
Bakain (China Berry)
Palasa (Flame of Forest)
Garlic
Sesame seed
Eucalyptus
Turpentine oil
Menthol
Clove
Camphor
---
EASY TO APPLY
---
Apply about 5 to 10 ml of the oil to the affected area.
Gently massage it in with circular movements.
For best results, use the oil twice daily for 15 days or as directed by the physician.
---
Safety Information!
---
Read the label carefully before use
Store in a cool dry place away from direct sunlight
Only use under adult supervision
---
FAST ACTING PAIN RELIEF OILS
---
Get instant and prolonged relief from backaches, joint pain, knee pain, shoulder pain, and discomfort caused due to strains, sprains, or bruises with Herbal Planet Ortho 360 Herbal Pain Relief Oil that spreads easily and absorbs quickly over the affected area for quick relief even in chronic conditions.
---
SAFE HERBAL REMEDY OIL PAIN CARE
---
Featuring a carefully concocted formulation, this herbal joint pain oil with eucalyptus oil for pain relief causes no side effects like rashes and irritation on application. This ayurvedic oil for pain relief is very effective for Arthritis, Sciatica, Frozen Shoulder, Chronic Knee, and Back Pain.

---
FOR ALL AGES
---
Available in a 100 ml bottle, our pain relief oil for back pain is great for middle-aged people for improved mobility, housewives suffering from body pains due to inadequate exercise, working professionals stuck in front of the computer for long hours, and young adults struggling with sports-related injuries
---
---